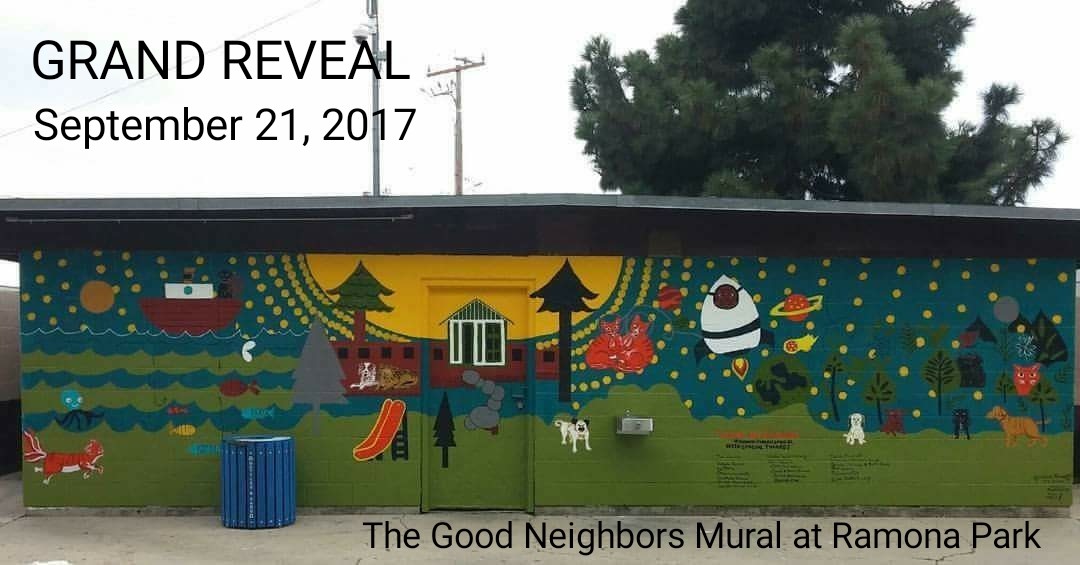 For Immediate Release
"Creating art is a way to reimagine the future. Every piece of art creates discussions and value in the world. Art stimulates the imagination which is the catalyst of change." – Velvet Marshall
HAWTHORNE, California September 18, 2017: On Thursday, September 21, 2017 at 4pm residents and visitors to the Ramona Park community in Hawthorne, CA. will come together to celebrate the completion and reveal of a project that lasted a year to plan and complete with the purpose of enriching the area with art.
The planning started in August 2016 when City of Hawthorne's Art Commissioner Gloria Plascencia approached artist Velvet Marshall to donate a mural which took a year to plan, get approved and paint by hand with she created with her team: Nastassia Perez, Chris Chavez and David Covey. The Good Neighbors Mural at Ramona Park spans approximately 30 feet wide and 9 feet tall and painted with Golden Artist Colors acrylic paint that was donated by a representative from the Golden Paints Company specifically for the project.
This is the second mural donated by Artists in the City of Hawthorne with more projected donations in the near future due to a planned project lead by Art Commissioner Gloria Plascencia and Council Member Olivia Valentine to beautify the city with Art.
The public and members of the media are invited to a special mural dedication ceremony event happening on Thursday, September 21st from at 4pm on the grounds of Ramona Park located at 4662 W. 136th St., Hawthorne, CA. 90250.